Claremont High School


Class of 1970
In Memory
Howard Gordon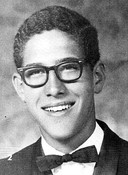 Luis Obispo entrepreneur Howard Gordon, a highly regarded innovator known for revolutionizing Internet information processing and robotics, died of a heart attack July 20, 2010 at French Hospital Medical Center after surfing at Pismo Beach. He was 57.

According to family, friends and associates, Gordon lived a life propelled by vigorous curiosity and gusto and yet was low-key and unassuming in the face of some of his culture-altering Internet contributions.

Gordon was among the first innovators who made streaming a video or song over the Internet possible when he championed software-based compression for images and audio MP3.

Want to attach and send a photo on the Internet? It was Gordon and his company, Xing Technology, that wrote very fast JPEG compression software for personal computers in the 1990s. Before Xing, nearly everyone thought special devices were needed to accomplish such data compression.

A graduate of UCLA with degrees in math and music, Gordon played classical piano, flute and guitar, excelled in dressage and was an avid surfer, skateboarder and champion sailboat racer.

Jeff Buckingham, president of Blue Rooster, a San Luis-based telecommunications company, recalled a man who definitely didn't stay inside the box. It was a lot of fun watching him with all of his ideas flying around.

Amy Kardel of Clever Ducks, a computer networking services company in San Luis Obispo, remembered Gordon as absolutely brilliant and just the neatest guy.

Born Oct. 10, 1952, in Montebello, east of Los Angeles, and raised in Pomona, Gordon's interest in computers goes back at least 40 years, long-time friend and collaborator Eric Redemann said.

While the two were college roommates at UC San Diego in the early 1970s, Redemann recalled, Gordon took a summer job on campus that entailed making a technical, animated film using the university's number-crunching computer center.

Prior to microprocessors, computer centers at that time were usually huge buildings holding vast banks of computers with long waiting lists for users.

Redemann said Gordon figured he could get exclusive time on the computers if he worked all weekend and let the other students have access during the week.

So he did the summer job on weekends, which was something like 40 days of work in six all-nighters, Redemann said, got good marks for his work and was able to surf and play music during the rest of the week.

It was also during this time that, with his father, Gordon developed computer models and playing strategies for blackjack. He developed computer-based trading models dealing with stock options and financial futures for the Wall Street firm of the then-Shearson Lehman Brothers and large-scale computerized telephone systems using microprocessors.

By 1982, he founded Network Research Corp., a computer-networking firm. He sold that company four years later and with a love for dressage founded Classical Horseman, a mail-order business dealing with dressage training videos. In the interim, he and wife Heidi Carr moved from Malibu to Arroyo Grande, where he based the business.

Gordon founded Xing in 1991 as a robotics and video tracking system company. Before selling the firm in 1997, his company was a leader in the Internet-altering software of JPEGs and MPEGs, allowing images to be compressed and sent online.

Technology was but one facet of Gordon's life. Jack Smith recalled meeting him one weekend in 2001 (the same year Gordon and Jay Crum set the Transpac record for double-handed sailing from California to Hawaii) while Smith was staging the International Slalom Skateboard Races in Morro Bay.

With typical Gordon brio, he jumped into the sport. Under Smith's initial direction, Gordon eventually partnered with skateboard legend Bobby Turner and co-founded Turner Downhill. Under Gordon's direction, the company completely revamped competitive downhill skateboarding by redesigning boards and wheels that dominated world championship racing.

One of his greatest sources of pride in this venture is that his daughter Lauren now 21 and a geological engineering student at the University of Montana and son Dylan now 18 and a visual journalism major at Brooks Institute in Santa Barbara both became world champion slalom skateboard racers several years in a row traveling to events throughout the United States and Switzerland.

He was one of the smartest guys I've ever known, Smith said. Yet, with all he accomplished, he was also one of the most down-to-earth; a Polo shirt and shorts were his uniform. He enjoyed life to the fullest.

For the past 12 years, Gordon owned and operated Surveyor Corp. from the family's La Lomita Ranch in Edna Valley.

Surveyor Corp. is a high-tech company that deals with one of Gordon's abiding loves: robotics and their applications. Toward that end, his curiosity and gusto were directed toward taking humans past what we know now.

It's sometimes hard to pinpoint a man's impact on his community,said Tim Williams, owner of Digital West of San Luis Obispo. When considering Howard Gordon, it's much more visible. His contribution to the technology world was global and, in many ways, he put San Luis Obispo on the map. His leadership drew the attention of giants in the tech industry, and he did so without limitations here in San Luis Obispo County.

It wasn't easy, Williams added, to be a major technology player from this somewhat remote region, but the very idea of doing more with less was part of the concept behind every technology application that Gordon built.

He had a reputation for creating and building companies and being able to sell them, Kardel added. But at the heart of Howard Gordon, he was a good guy who cared about what really matters not just the integrity of products but also his family and community.

Gordon is survived by his wife, Heidi Carr, of San Luis Obispo; daughter, Lauren Gordon, and son, Dylan Gordon; and brother, Mitchell Gordon, of Northern California.