Claremont High School


Class of 1970
In Memory
David Goldstein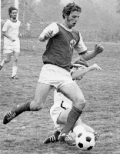 David Zachary Goldstein passed away early Monday morning, May 24, 2010, with his family and friends close by his side, he made his final walk along the sidelines of the soccer field.
David was born Dec. 11, 1951 to Howard and Helen Goldstein (Rasmussen) in San Gabriel, California. David lived his life filled with hope and dreams for all who knew him. David was a musician, an artist, a philosopher, a teacher, a mentor, a solid thinker, a comedian, athlete and friend. David loved to laugh. David enjoyed watching raindrops race down a clear glass pane. David had vision. In the summer of 1984, God brought David and his wife, Becky together. Dave and Becky married and moved to Alliance, Ohio where David spent three years with Mount Union College as a teacher and a soccer and lacrosse coach, as well as track and field before accepting the position with Idaho Youth Soccer in 1988 as the State Director of Player and Coaching Development. David and Becky were blessed with their son, John Howard in 1989. John and his dad learned to scuba dive together, they went fishing and floated on the Boise River in tubes. They camped at Lucky Peak and skipped stones across the water while searching for snakes and frogs along the river bank. David's education earned him a Master's in Teaching: Physical Education from the University of LaVerne, California and a Bachelor of Arts in Philosophy: History from Claremont McKenna in California. David held a USSF "A" license and a NSCAA "Premier" diploma and 41 years coaching his passion-soccer.
David is survived by his wife Becky and son John of Boise and his energetic companion, "Bruce", his mother, Helen Goldstein (Rasmussen) of Guerneville, Calif., three sisters, Augusta Goldstein of San Francisco, CA, Mikki Goldstein-Herman of Guerneville, CA, and Lili Shoshana Kahan nee Lily Goldstein Bat Ayin of Israel.
David was preceded in death by his father Howard Goldstein.
"Defeat is never Fatal. Success is never Final." David, you will be ever present in our lives and forever etched upon our hearts. Love ya, Babe! Keep your eye on the ball and follow through!
- Published in Idaho Statesman on June 10, 2010